Custom Creations
Made JUST FOR YOU! We love adding personal touch to our pieces. Our custom-made collection both come in dainty and bold designs. A gift for yourself or loved one? There's nothing better than a personalized piece!
CUSTOMIZE YOUR JEWELRY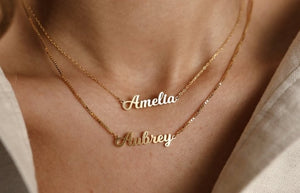 Let customers speak for us
love!!
i love this necklace sm. i have had it for a few weeks and it has not tarnished or turned my skin green which usually happens with metal jewelry for me! so i am pleasantly surprised! i wear it almost every day.
In My Heart
Love!!!
I absolutely love my themed mystery gift, I got this pair of really cute astrological earrings and I've gotten so many compliments on them!
Themed Mystery Gift
High quality
This necklace was a beautiful purchase! Exceeded my expectations & it's a high quality design. The necklace went through showers, lotions, & sweat and the necklace never lost color and it didn't stain my neck.
Cursive Script Nameplate
Obsessed!!
My favourite bracelet, I get so many compliments on it!!
Carin Bracelet
In love!!
Absolutely adore this piece of jewelry, so flattering & wearable everyday!!
Tarot Block
Awesome!
This was so fun! I got the baddie one and I love my spikey earrings! They're so fun! Love surprises so this was a great buy!!!
Themed Mystery Gift
I LOVE THIS
This necklect is perfect for every day. It's very dainty and i love stacking it with other necklaces as well!!! Doesn't tarnish at all!!!
Croix
OMG
I have found my everyday ring. It's so cute and small and dainty I wear it every day. I love that I can stack it with any other ring and that it doesn't tarnish at all!
Angel Number Ring
Cutest thing ever!
This ring is so cute! I love pairing it and stacking it with other rings as well. I love the white accents on it!
Linnea Ring
Staple piece!!!
You NEED this bracelet in your collection. I use it every day and it's such a staple piece of jewlery that every girl needs. I've worn it every single day and I love it, it doesn't bother me and it doesn't tarnish either!!!! GET IT NOW!!!!!
Cairo Bracelet
Gorgeous
I have this necklace to my best friend for her birthday and she has not taken it off one day since. She loves it so much it's so dainty and adorable. It means so much more that it's personalized. It hasn't tarnished and it's the perfect length and such a great birthday gift!!!!
Jolie Nameplate
LOVE
This is the cutest and most comfortable summer anklet. I wore this the whole summer and went swimming in lakes pools oceans and it did not break or tarnish. Anklets are so in the summer I 100% recommend!!!
Leah Anklet
Adorable
I use this ring every day. It's perfect because it can go on any finger since it can open and close. It's so cute and doesn't tarnish! LOVE LOVE LOVE IT
Stella Ring
So cute!!
I love this ring. I use it on my pinky finger because it's just so cute and dainty. Always been a fan of evil eyes so I LOVE this ring!!! Also doesn't tarnish!!
Evil Eye Ring
Super cute
A little chunkier than I thought but it's still super cute! I wish the chain luck necklace was a little longer, but it's very cute regardless!!
Cosette