Custom Creations
Made JUST FOR YOU! We love adding personal touch to our pieces. Our custom-made collection both come in dainty and bold designs. A gift for yourself or loved one? There's nothing better than a personalized piece!
CUSTOMIZE YOUR JEWELRY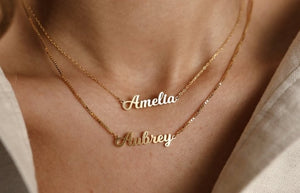 Let customers speak for us
obsessed
the cutest necklaces with my babies names on them! i'm obsessed
Cursive Script Nameplate
Cutest!
Love this sweet little good luck charm. The chain is gorgeous as well. Thank you!
Dale Evil Eye
Carin bracelet
Absolutely gorgeous. Great quality and definitely did not disappoint! Very happy with my purchase!!
Carin Bracelet
Beautiful!!
This bracelet is very elegant and it is always my first grab when picking out an outfit!
Monroe Bracelet
Gorgeous Earrings!
I ordered these a couple of weeks ago and wanted to wear them for a bit before doing a full review. I have to say that these are so stunning and do not turn my ears green. I also love that they are nickel free because I am allergic and have super sensitive ears but these have been so lovely!
Viera Earrings
staple
love it, i wear it every day and it's still perfect :)
Miami Cuban Link Chain
Beautiful and high quality
Beckham
A staple item
Honestly this is such a staple item. Everyone needs on chain that is there go to and this is my new go to. I love it so much. I have sweated and showered in it and the color hasn't faded. 5/5.
Miami Cuban Link Chain
Great Overall
Honestly it's a very cute necklace. I've worn it about three times and once in the shower (accidentally) and it's still going strong. No color fade, nothing honestly love! I just don't like how easy it gets tangled but all layered necklaces are like that so it wasn't that big of a deal.
Beckham
So Cute
It's so hard for me to find anklets that will fit girls with bigger legs, and this one fit! So cute.
Leah Anklet
Adorable yet sophisticated
Very pleased with these earings, perfect for every day wear!
Ceylon Earrings
adorable!
i love these. they go with everything, they're the perfect accessory when it comes to dainty. LOVE!!
Cali Earrings
so cute!!
I loveeee this ring. it's daintiness is just my style and I love how it's adjustable so it fits perfect.
Jasmine Ring
I got so many compliments !! super cute and i loved the pink soiree pouch
I fell in love with this ring as soon as I saw it, I liked the idea of styling it as a statement ring. I chose silver because I have cool tones in my skin and I feel silver looks best on me. It is definitely a standout ring and I love the flower + gem combo. I definitely recommend it!!
Jasmine Ring
Beautiful
Gorgeous necklace, wear it every day!
Heather